VESA (Video Electronics Standards Association) is an international non-profit organization that sets industry-wide interface standards for the PC, workstation, and the consumer electronics industries. There are more than 300 member companies that comply with VESA standards including Apple, HP, Sony, LG, and Samsung.
Flat-panel TVs are designed to be wall-mounted and will include four holes at the back to accommodate the necessary bracket hardware. If these holes are set at specific distances from one another they are said to be VESA compliant. This information should be provided on the packaging and product pages of your TV, but the simplest way to find your pattern is to measure. The horizontal and vertical distances are measured in millimeters, with the following being the most common patterns:
75 mm x 75 mm (2.95" x 2.95")
100 mm x 100 mm (3.94" x3.94")
200 mm x 200 mm (7.87" x 7.87")
400 mm x 400 mm (15.7" x 15.7")
600 mm x 400 mm (23.6" x 15.7")
800 mm x 400 mm (31.5" x 15.7")
If you are measuring in inches, you can covert to millimeters by multiplying by 25.4. For example, if the mounting holes are in a square shape and the measurement is roughly 2 15/16", convert to decimal (15/16 = 0.9375) and multiply: 2.9375 x 25.4 = 74.6125 mm. This TV would be VESA compliant.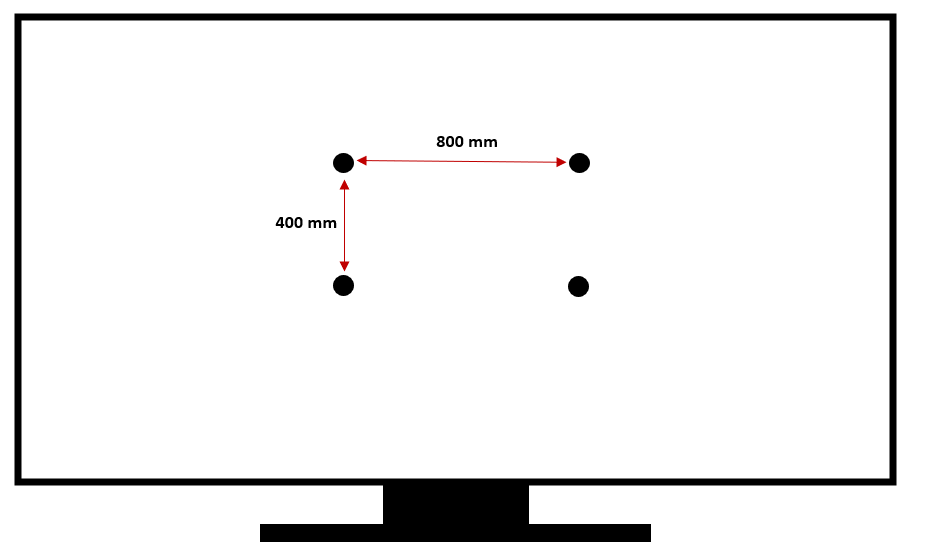 The location of the VESA pattern can vary between brands or even models of television, and this can be another important aspect to pay attention to, particularly if the area you are working with is limited.
On the Galaxy TV stands, there is a limited amount of space between the bracket and the shelf.