The number of records a turntable stand can hold will vary depending largely on personal preferences. Vinyl enthusiasts will tell you not to overload a turntable stand because doing so may damage the records, but even if you prefer a more compact storage system, it is important to note the average size and weight for each record. There is not a universal thickness or weight of a record, so it is not possible to provide an exact number of albums each stand will hold. Other variables might include inner and outer sleeve thickness, brand, and even the record's age. If you are a vintage album collector, for example, records manufactured prior to 1973 were thicker and heavier: an oil crisis during the Yom Kippur War limited petroleum supplies, and record companies began manufacturing thinner records.
Typically, weight limits are met before the shelf width is filled, and it is important to consider this when deciding if a stand is large enough to accommodate your needs. It is best to leave enough room to thumb through the titles, as this both keeps your collection within the weight limits of the Turntable stand and is more suitable for preserving the vinyl.
Without getting too enthusiastic about the myriad of possibilities, the most typical vinyl records are available in the below sizes and weights:
| | | |
| --- | --- | --- |
| Size | Weight (gram) | Weight (ounces) |
| 7 | 40 | 1.41 |
| 10 | 110 | 3.88 |
| 12 | 120-180 | 4.23-6.35 |
Thicker, heavier records do not vibrate as much, making them more durable and providing a better sound quality, but they do add width and weight. That, paired with the variables described above can make the number of records a shelf will hold difficult to determine.
The Luminas, such as model 8325, provide a total of 18.8" of storage space (4.6+4.6+4.8+4.8) and a 15 pound weight capacity. There are 240 ounces in 15 pounds, meaning that this could translate anywhere from 40 to 60 records if you are displaying 12" records, and more if your records are of a smaller variety.
If your collection is larger, the Regal, like model 7347, offers more storage. Each cubby has a width of 9 inches and can support 15 pounds. The capacity for each cubby is similar to the whole unit on the above example, and 45-60 records could fit in each slot.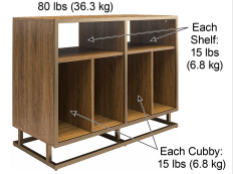 To best determine the needs of your personal collection, you can either measure the width and weight of your collection as a whole or weigh/measure a small sampling, such as an inch or ten records.